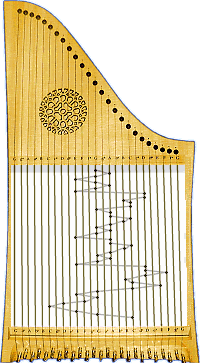 For more information contact


Introducing the Joystrings Harp


Welcome! The easy-to-play

Joystrings Harp

is new to North America. This unique instrument is designed so that almost anyone can play it, instantly, without previous music training!
Originally developed by a musician in Europe for a young man with Down Syndrome, this special harp is now played by thousands of people, including:

people with physical and mental challenges.
seniors with time to make music, but no musical experience.
former musicians unable to play their original instrument.
people unable, or simply too busy, to learn any other instrument.
anyone who thought they could never play a musical instrument!



The Joystrings Harp is fun to play at home, and it opens up a whole new world when you join a
group
and make music together. On this site you can listen to people like yourself playing the Joystrings Harp, see how it works, and find out how you can purchase one. Handcrafted in Canada, the Joystrings Harp is a real musical instrument that sounds as good as it looks. It's a pleasure to look at and a joy to play!


Tips for viewing this website are on our
Contact Us
page.
Our
Site Map
page shows when each page was most recently updated.

Visit us regularly to see what's new!